PERFECT WEDDINGS DEMAND THE PERFECT VENUE.
Of all the events that happen in your lifetime, your wedding will be the most romantic. You've no doubt been dreaming about what your wedding should be like all of your life. Since the time you were a child, you've probably had fantasies about it – what you and the attendants will wear, the magic scenery of the spot where you'll say your vows, the delicious cuisine that your guests will eat, the flowers, the music.
We'd like to invite you to consider Prairie Woods as the destination where all those fantasies can become reality.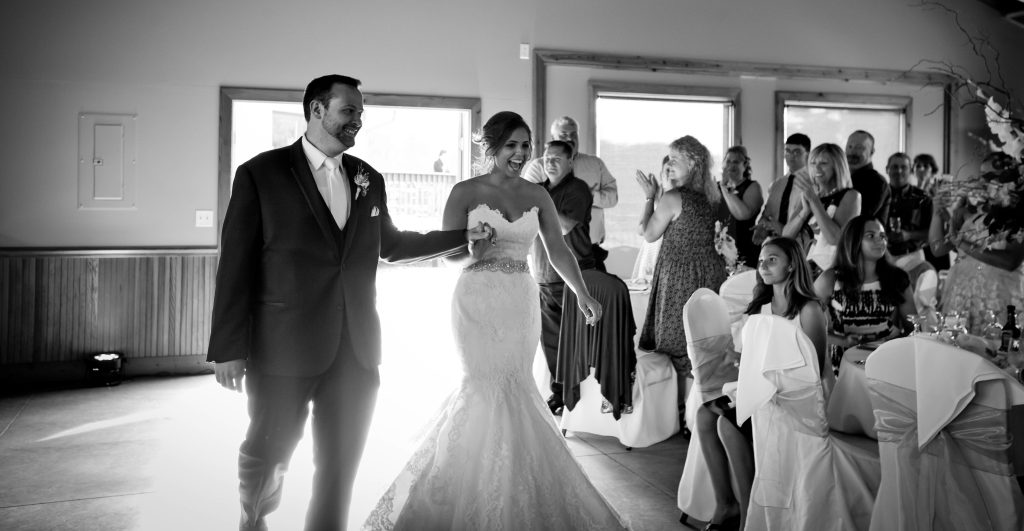 Let's do a quick check of some key elements to the perfect wedding:
Great location
Elegant Surroundings
Fabulous Food
Beautiful Decorations
Picture Perfect Locations
Dance Floor & Great Music
Experienced Banquet Staff
Yep, we pass the test. Just add guests!
---

The venue was beautiful, the servers were great, and everyone raved about the food!
Tyrone and Jessica
---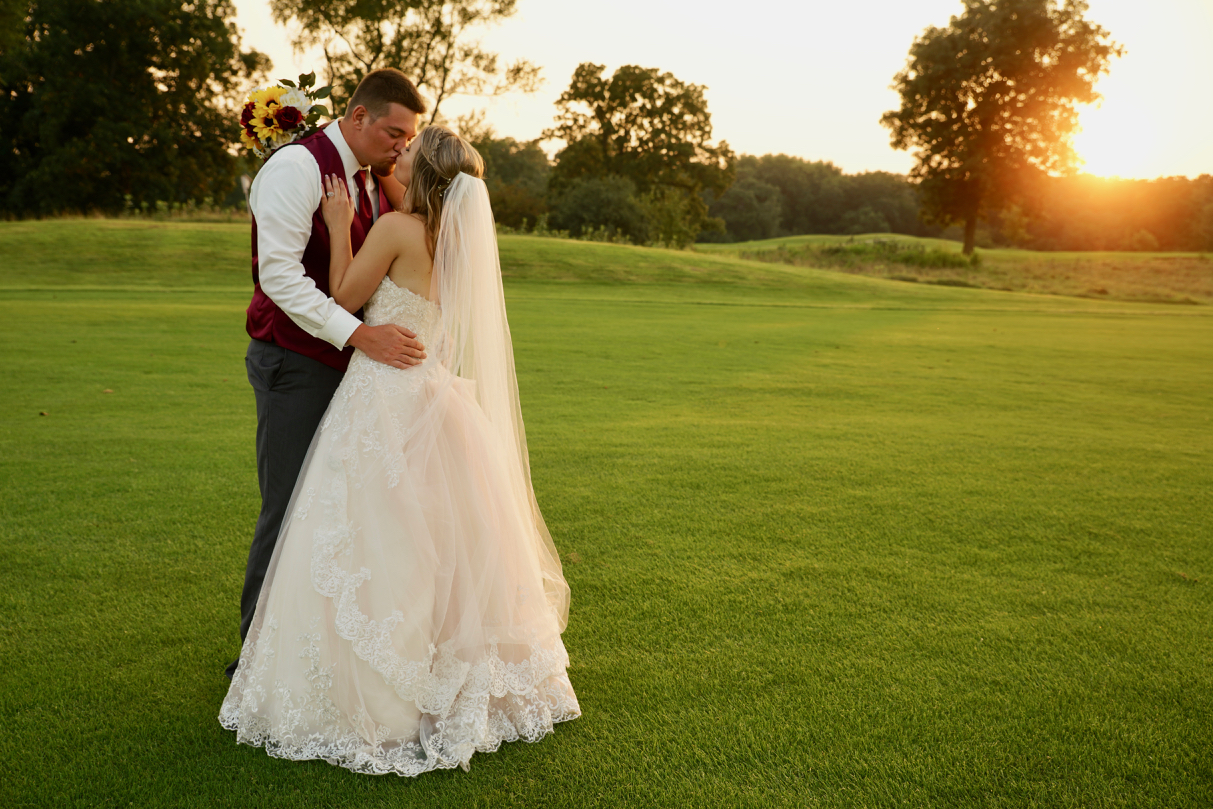 WE'RE READY TO HELP YOU EVERY STEP OF THE WAY.
The steps a bride takes down the aisle are super-important. But there are many steps to take prior to those! Here at Prairie Woods, we assist the bride with all of them! Just thinking about all of those details to a wedding can be a bit daunting.
Here's a great plan: FORGET the details and leave them up to us! Our experienced team helps you plan every moment of your special day, arranges your event and sees that your plans are carried out flawlessly. Like players in a well-rehearsed Broadway play, our wedding team will see that your special day comes off without a hitch.
We know from experience that cost is one of the first considerations for your memorable trip down the aisle… We rarely work with a bride (and especially dads picking up the tab) for whom money is no object. Everyone today is cost-conscious.
Prairie Woods offers you packages that include many wedding and reception services at affordable prices. Our packages make planning and budgeting a breeze and can easily be custom tailored to deliver your dream wedding.
Remember – if you don't feel comfortable within the cost perimeters of our wedding packages we'd be delighted to customize a package just for you. We want you to enjoy your day here. We don't want you silently counting and calculating every drink, every appetizer, every tablecloth…
We'll help you design and customize a wedding package that's just right for you and put your plans into motion.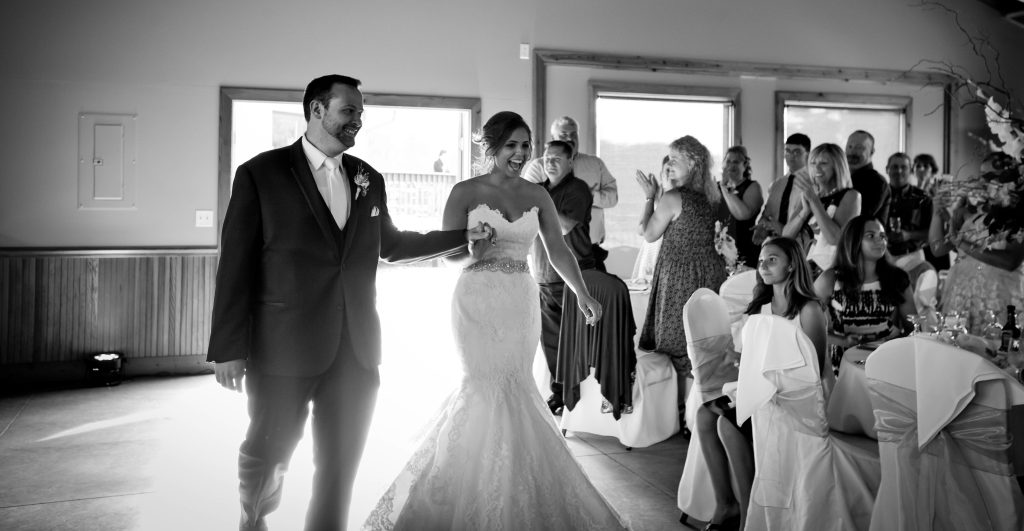 WE MAKE EVERYONE FEEL AT HOME.
Weddings are synonymous with family. Unless you plan to elope, your family will play an important role in your big day. We treat all of your guests like members of our family. We make everyone feel at home and do our very best to let you know how much we appreciate that you've chosen Prairie Woods to host your most special day. It seems like every family has that member. You know, the fussy aunt who normally doesn't like anything she didn't cook herself. Or the uncle who will insist on lighting up a celebratory stogie. We'll put on our kid gloves and do whatever it takes to make all of your wedding guest feel welcome. While you can't pick your family (none of us can!) you can pick every facet of your big day here at Prairie Woods, with a myriad of wedding and reception options available to you. Don't worry – it's not an overwhelming task to decide when you have our help!
We'll help you design and customize a wedding package that's just right for you and put your plans into motion.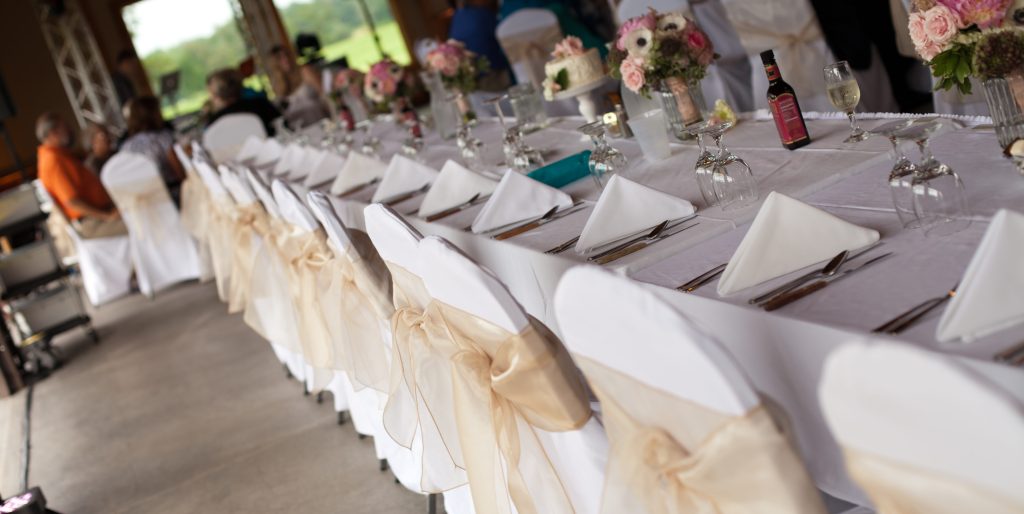 WE SERVE UP DELICIOUS DINING OPTIONS EVERYONE WILL LOVE.
It's your big day but let's face it: If you fail to come through for your family and guests with great food, it won't matter how radiant you were coming down the aisle! We've found that the way to your wedding guests' hearts is through their stomachs and our entire culinary crew will make sure everyone loves you on your big day! A key part of any wedding is the cuisine that you serve. Our chefs will ensure your guests will rave about their dining experience during your special day, putting lots of passion into our food quality and consistency. Even Uncle Ernie, who complains about everything, will be delighted here!
We'll help you design and customize a wedding package that's just right for you and put your plans into motion.
---

Originally, we wanted to go away to get married, but after having our reception at Prairie Woods, we're very happy we took the route we did. It was beautiful! We've received many compliments. We had so much fun and appreciate everything you did to take care of us for our day.
Bill and Tammy
---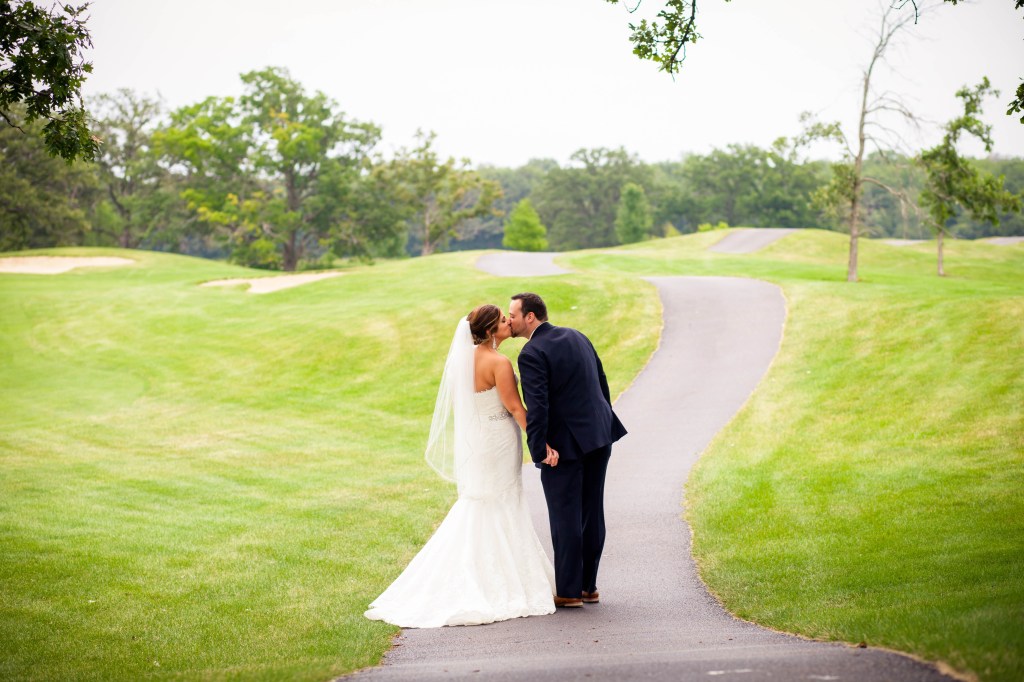 OUR PICTURESQUE VIEWS ARE THE PERFECT BACKDROP FOR YOUR MEMORABLE MOMENTS.
Our backdrop is all yours! The only thing more beautiful, other than you, on your wedding day at Prairie Woods is our gorgeous setting! Prairie Woods is cut out of pristine Wisconsin farmland and features majestic, 100-year-old trees, a hilly terrain and water features that make for memorable photos you will cherish for a lifetime.
We'll help you design and customize a wedding package that's just right for you and put your plans into motion.
OUR BEAUTIFUL PATIO IS PERFECT FOR AN OUTDOOR CEREMONY.
Wedding dreams all come true – indoors or out – at Prairie Woods.
Are you an outdoors kind of girl? Well, then, you're going to love your ceremony and reception options.
Of course we have an outdoor wedding venue!
In fact, there's no better outdoor wedding venue we know of than our lovely patio surrounded by picturesque views of the golf course and surrounding area. Our patio has been the staging area for many a happy bride and groom.
We have something of an unfair advantage over other wedding venues, with all of our gorgeous outdoor options. Of course, if Mother Nature spoils your plans, we're ready with a back-up!
After your ceremony, you and your guests will stroll over to the Woods Room for your reception, just steps away.
We'll help you design and customize a wedding package that's just right for you and put your plans into motion.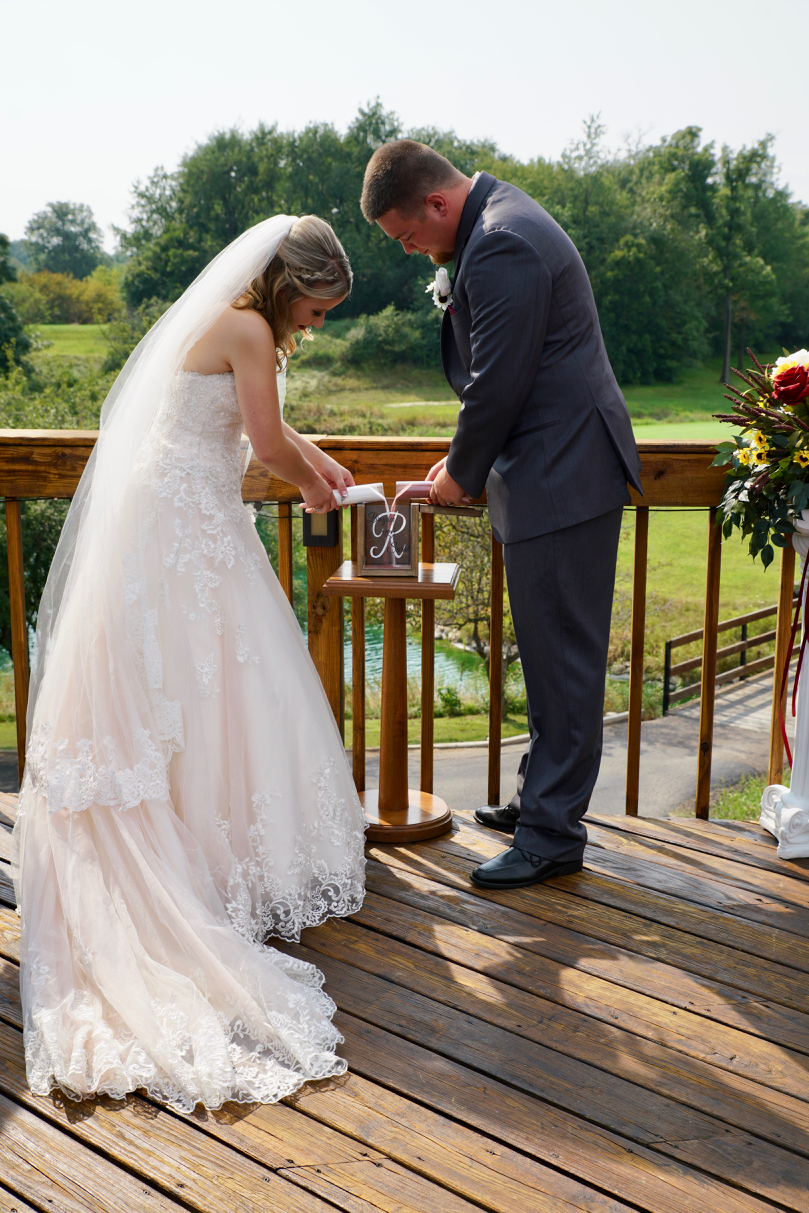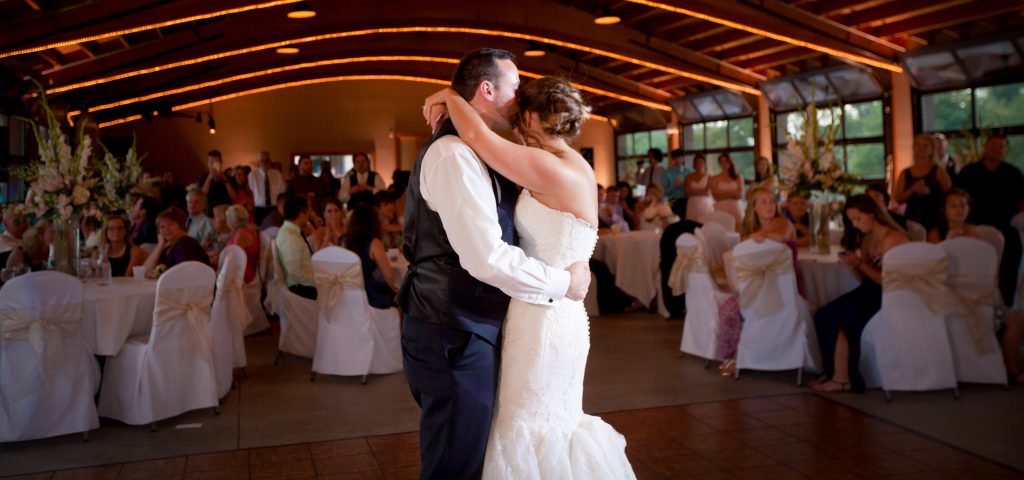 OUR ELEGANT WOODS ROOM COMFORTABLY ACCOMMODATES UP TO 170 GUESTS IN STYLE.
There's always room for the bride and groom. But I've had brides from humongous families and every last first-cousin-once-removed is on the guest list! Here at Prairie Woods, we say the more the merrier! Our tenth point of difference focuses on the part our facilities play after your wedding ceremony… At the end of every marvelous wedding ceremony is an equally-marvelous party! The three-season set-up has seating for 170 wedding reception guests, leaving room for tables and, of course, a dance floor. Overlooking our wonderfully-wooded golf course, keep this setting in mind for your "official" wedding photographs – or some great "selfies!"
We'll help you design and customize a wedding package that's just right for you and put your plans into motion.
---
It's Going to be Perfect!
Let's Plan Your Big Day!